Today we went on one crazy day of rafting on the Tully river with Raging Thunder Adventures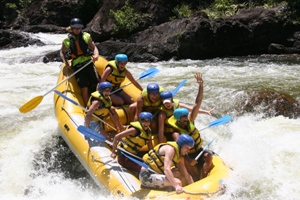 The Tully river, located about 2 hours south of Cairns, is regarded as the best rafting river across Australia and New Zealand and therefore appeared to us as a must-do!
Raging Thunder Adventures introduced rafting in Queensland as early as 1984 and has since then been an incontrovertible actor with departures from Port Douglas, Cairns, Northern Beaches and Mission beach.
Early in the morning, the Raging Thunder shuttle comes around to pick up our sleepy heads from the YHA Cairns Central Backpacker. After having picked up people from a few other backpackers in the area, we meet up with 5 other shuttles somewhere in cairns to jump into the bus that will drive us to the gorgeous Tully River.
The trip goes for roughly two hours but time just flies with the crew entertaining us with films and jokes every 2 seconds. We get to the meeting point at about 10am and in no time we're already assigned a team and an instructor for the day. It's blazing hot today (for a change) and luckily enough the crew brought some sunscreen for everyone to cover themselves with.
The schedule is flexible and easy: rafting all morning in 24 degree water,lunch break at around 1 for about an hour and then rafting in the afternoon!
Our instructor is a real crack-up and we start the ride with a bit of hello-splashing, "just to get to know each other" as he explains.
We are about 8 on the raft, which is great size. The morning flies and the typical ozzie barbie (barbecue) gives us more food than we can get in our stomachs despite our initial starving state.
In the afternoon, the travel gets a little more fun now that we have almost become rafting professionals! By the end of the day we've (almost) completely mastered the raft and finish with some swimming in the river.
All in all, a fantastic day that was worth the early wake-up! Highly recommended but make sure you bring some dry clothes ; - )