Karijini (Hamersley Range) is one of Australia's most spectacular park with sheer gorges, waterfalls, pools, nature and wildlife.

We started with Dales Gorge. This is Circular Pool from the lookout of the car park and from down Dales Gorge.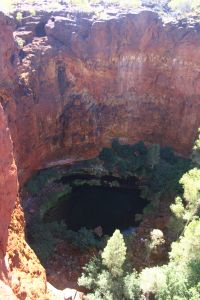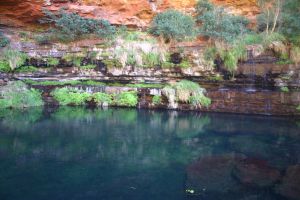 After a steep descent, we walk on the almost dry river bed and are amazed by the iron layered rocks and other iron architectures.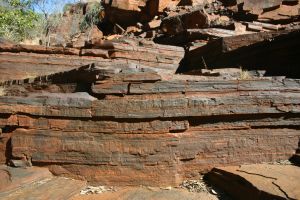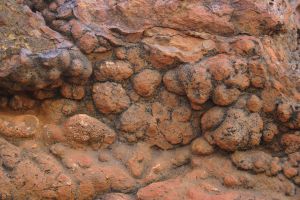 At Circular Pool, the sign says:
"Circular Pool is a special place. This pool was created by great serpents in a time when the earth was soft. These serpents still live in gorge pools today."
Time for a swim! The water is cold but it gets very warm near the waterfall on the right side.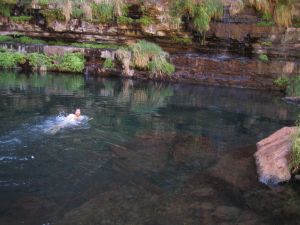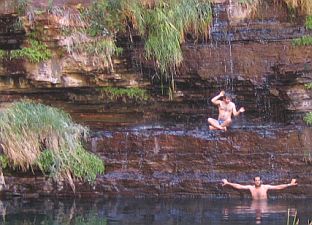 We then walk along a beautiful 4 km trail toward Fortescue Falls.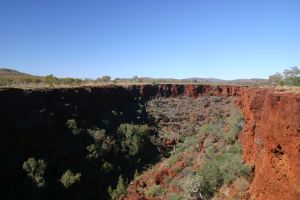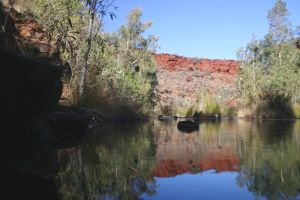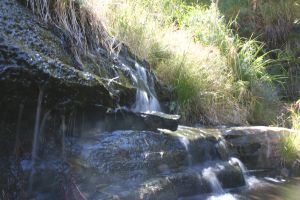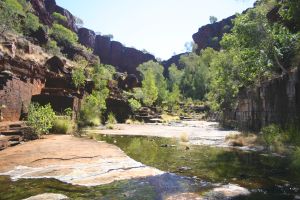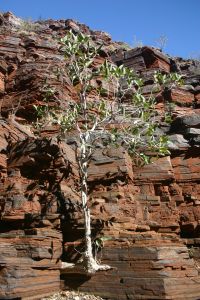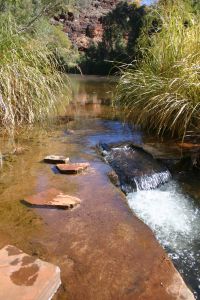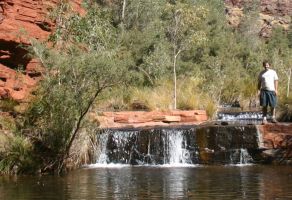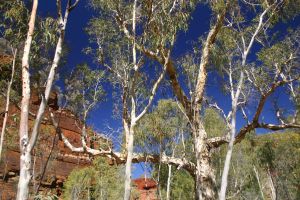 This is Fortescue Falls viewed from the top.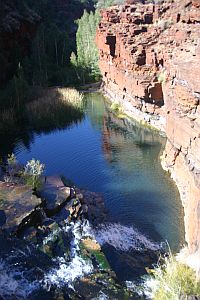 My advice: swim but don't go on the waterfall or your will be covered with small black worms, ghheee.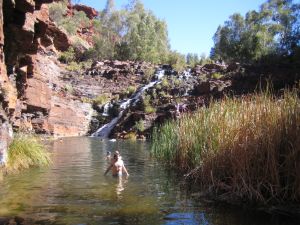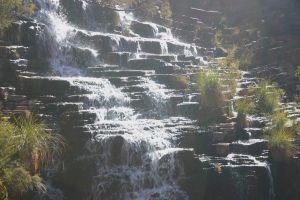 The area near Fortescue Falls is full of beautifull insect and animals: dragonflies, big green ants.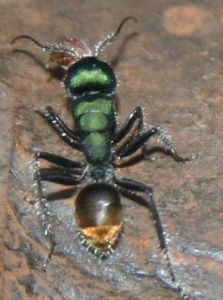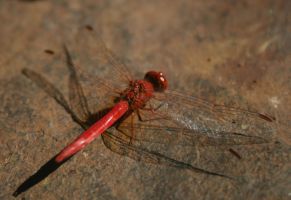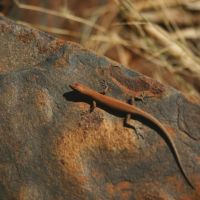 The gorge walls, eucalyptus trees and the full moon on the top of the Gorge (picture from Fortescue Falls).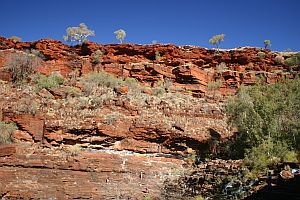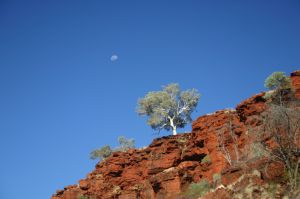 Then we walk up to Fern Pool and past some amazing trees.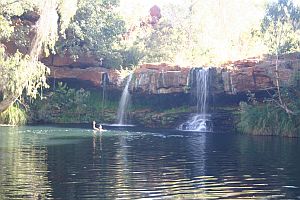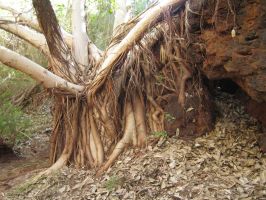 The way back was along the top of Dales Gorge and this is maybe the biggest gum tree! If you spot small bees on a gum tree, it means that some branhces are full of honey. I looked but there were no bees.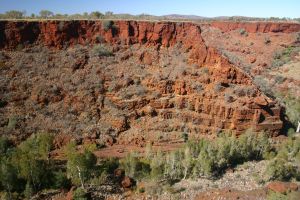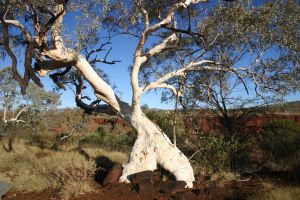 After a night of camping (bring two blankets), we went for a walk along Kalimina Gorge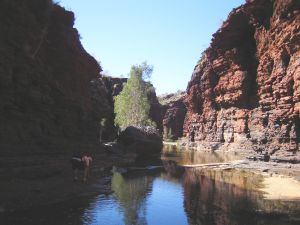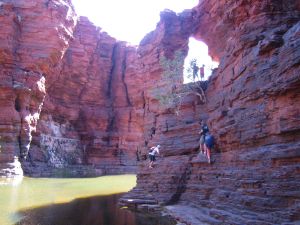 Once people climb and pass through the rock hole, a popular activity they can make a pyramid with iron red flat stones.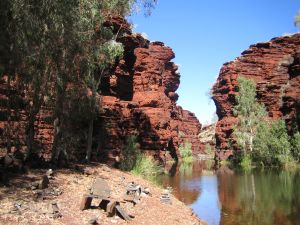 The trail continues for a few hundred meters and then stop near a pool.
Time to go to the Oxers lookout where the Four Gorges meet. These are Karijini's spectacular gorges.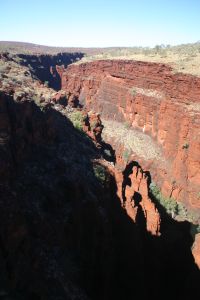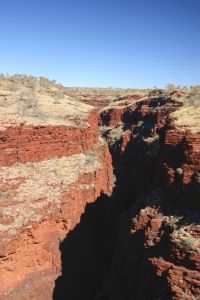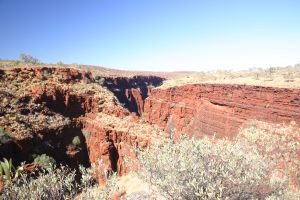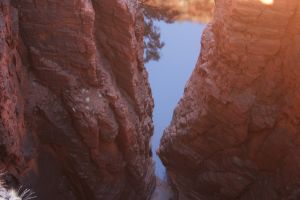 The last picture is of Hancock Gorge and Junction Pool and I went there... It was a bit of a challenge!
To go there, you first have to 'Spider Walk'.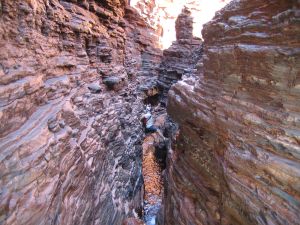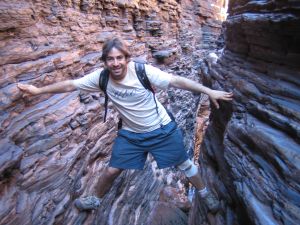 Arriving at Kermit's Pool, the 'class 5' trail ends. To continue I had to slide down the water toboggan and stop before the end, then I jumped a 2 meter waterfall. I advise you to rather climb the wall on the right which is easier because this toboggan is too much sliding and you really have to stop before the waterfall!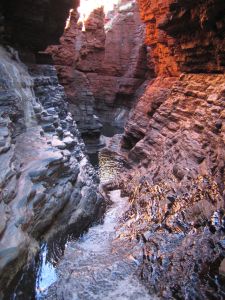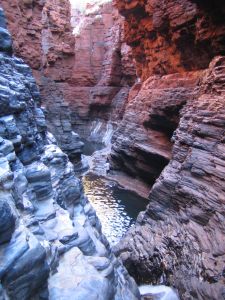 Once you pass this challenging part, it's a easy walk past two other pools and down a long cascade. Look up and be amazed by the 100m steep and narrow gorge walls!
Don't stop there, you're a only a 20m swim away from the 'center of the earth': where the Four Gorges meet at Junction pool. It's incredible: you have two gorges on your left, one on your right and another one ending up as a waterfall in fron of you! This is the most beautiful place I've been in Australia.
My advice: bring your camera (take a waterproof bag).
On my way back I climbed up the wall using the metalling rings used by groups.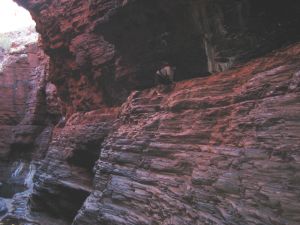 We then drove to watch the sunset at Joffre Falls and Knox Gorge.